Industry & Identification
LAMACOIDS

'Engraved Modified Acrylic Plastic Signs'
'Permanent, Approved, Official, Attractive'
ENGRAVING FOR INDUSTRY
Fast - Correct - Dependable
Feel Confident that we are paying attention to the
quality and the delivery of your order.
No minimum charge.
Lamacoids
Lamacoids are a two or three ply acrylic plastic engraved sign to identify panels, wires, switches, valves and equipment for instruction and for safety. Engraved in modified acrylic plastic, lamacoids are the identifier of choice due to their clarity, colour selection, ease of cleaning and permanency, supplied with sticky back tape for attachment directly. Tags can also be supplied with holes for attachment by wires, screws, nails or rivets.
Valve Tags
... we supply engraved brass valve tags c/w 4 ½" nsp or brass ball chain. Several sizes are available... ¾",1", 1 ¼", 1 ½" diameter c/w hole.
Signs, Desk, Door and Wall Plates

Name plates present a professional appearance to your clients, customers and visitors. Name plates convey that a person is valued by the company, an asset, important and permanent. They are the classy touch of professionalism needed in every office. For the company and for the people. Having an individual's name on the desk or door, signifies the recognition factor we mention so often. Everyone benefits.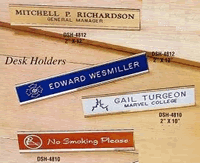 Signs can be engraved in a wide variety of modified acrylic plastic with satin or matte finishes.omega replica watches Surface or reverse engraved, these signs can be supplied framed or unframed with sticky back tape for adhesion to any surface or with holes for attachment with screws or nails. Because of the nature of our product and services, we can engrave a wide variety of labels, panels and other items, such as, key tags, coat check number tags, self numbered tags, luggage tags, golf bag tags.

Desk, Door Sign holders
There are standard sized sign holders/sliders for name plates.
Walnut desk name holder 1 ¾" x 6", 1 ¾" x 8"
Sliders for desks 2" x 8", 2" x 10"
Sliders for doors & walls 2" x 8", 2" x 10", 2" x 18", 4" x 18"
For more information please fax (604-940-4491), email, or fill in our form with your design/logo request and we will quote within one day.
chopard-replica-watches